WHAT INSPIRED ME TO START THIS MINISTRY MY LIFE TESTIMONY
TESTIMONY OF MY LIFE
Feb 4, 2008, 12:24 am
I am a 50 years young , married with two handsome sons, both
adopted. I love going to church, cooking, decorating,
I love kids, like meeting new people, entertaining,
shoppin­g, love to travel, baking, I spend most of my time at
church, and I am a people person. My days are spent taking care of
my elderly aunt, handicapped son, my father since my mom died nine
years ago, a friend from church's grandmother, and my home. I try
to reach out to people who are in need, that seems to be my
ministry.
At the age of sixteen I went totally blind at a church
convention, i stayed blind over six months, you never
know how to appreciate sight until you loose it,
knowing what things looked like before, learning how to get around
your own room, stumbling along to find your way, and not knowing if
you will ever see again. God had mercy on me .
I was not able to have children of my own, so i chose to adopt, even with all
one of my son's disabilities i still feel he is a blessing from
God. He is diagnosed with ADHD, Bipolar Disorder, Mild Mental
Retardation, Speech Impediment, and Learning Disabled I gave up my
career working in Cardiographics Heart Station to stay at home and
raise my son.
He has really been a blessing in my life, through all
our ups and downs God has strengthen me and is pouring me out
blessings that I don't have room enough to receive them. I walk by
faith and not by sight which has gotten me this far in life. Through
all I have weathered the Lord has been dealing with me, and has
taken my faith in him to an all time high, another level, a new beginning.
Growing up i had alot of heartache,and pain, suffering,
disappoint­ments, stress, no type of relationship with my family,
abusive marr­iage for 12 years, so abused until i lost my
identity of who i even was, i lost myself it was like i had became
someone else, felt so ugly on the inside and out, i fell into a state of
depression that i thought i could not recover from, i even had to
seek professional pyschiatric help and medication, but i hung in
there because i took my vows seriously, and i was brought up to
believe in one marriage till death do you part, so i did not want
to bring any embarassment to my family. By this time I was
desperate for a way, my prayers changed and I started praying
for the Lord to take one of us by death. One day I
was riding on the interstate and a voice came to me and said, just
open the door and get out, I knew it was not the way
that God had planned for my life, that he still had work for me to
do.
My son and i became homeless and his father took us in when we had
no where else to go, we stayed there five years, in seperate rooms,
We remarried 2 years ago. Thinking things would be better for my son
i made an unselfish decision to give up my life once again. I am here but i am
no longer in love with him, its easy to
forgive but very difficult to forget. Now i find myself still
giving without anything in return. But I know if anything ever
happens to me, my son will be well taken care of.
I feel that as long as i continue to live right, and do as the bible ask,
that the LORD will be well pleased with me and will
truly bless me for it one day before this life is over, I want all the things I
dreamed a marriage to be, a best friend, companion, good
conversation, to be held and cuddled,
romantic dinners, quality time , to miss him every minute
of the day that we are apart, for my heart to skip a beat when he
I see him, I want him to be the air I breath, unconditional
love.
TRUST, FAITH IN GOD, DELIVERANCE
May 5, 2008, 6:07 pm
I HAVE AN ADOPTED DISABLED SON, WHO IS 21 YEARS OLD, BUT HAS THE MENTAL MENTALITY OF A 10 YEARS OLD, HE ALSO IS ADHD, BIPOLAR DISORDER, AND MILDLY MENTALLY RETARDATION, WITH A LEARNING DISABLITIY.
LAST YEAR IN THE MONTH OF MAY, HE WAS FALSELY ACCUSED OF RAPE OF A CHILD ON A SPECIAL NEEDS SCHOOL BUS, THERE WAS A VIDEO TAPE ON THE BUS, WHICH DID NOT SHOW ANY SUCH BEHAVIOR TAKING PLACE. BUT SOME KIND OF WAY THE STORY GOT TOLD OUT OF CONTENT, AND THE STATE WENT AFTER HIM, THEY BROUGHT 9 CARS OF POLICE AND TWO UNDERCOVER CARS TO MY HOME, ARRESTED MY SON, HE HAD A 30,000 DOLLAR BOND, LOOKING AT 15 TO 25 YEAR SENTENCE WITHOUT PAROLE.
THE MEDIA BLEW THE WHOLE STORY OUT OF PROPORTION, PLASTERED HIS NAME AND FACE ALL ACROSS THE NEWS, THE INTERNET, AND ALL TYPES OF PAPERS. WE HAVE BEEN GOING BACK AND FORTH TO COURT, PRAYING FOR A MIRACLE FROM GOD EVERY STEP OF THE WAY.
OF COURSE IT WAS VERY HARD ON ME, BECAUSE I HAD TO SPEAK FOR MY SON BECAUSE HE IS NOT ABLE TO DO SO ON HIS ON BEHALF. I SPENT WELL OVER 16,000 DOLLARS FOR REPRESENTATION FOR HIM.
WE DODGED THE MEDIA FOR THE WHOLE YEAR, FINALLY BEING CORNERED IN THE COURT ROOM BY THE NEWS MEDIA, AND I WAS TOLD THE MORE THEY INVESTIGATED THE STORY, THEY CAME TO THE REALIZATION THAT MY SON WAS A VICTIM.
AS TIME PASSED ON, I BECAME VERY DEPRESSED, MENTALLY MESSED UP, WAS JUST ABOUT TO LOOSE MY MIND, THE DEVIL STARTED WORKING ON ME, AND I MISSED CHURCH FOR A MONTH. THE DEVIL HAD MADE ME BELIEVE THAT NO ONE CARED, CALLED TO SEE ABOUT ME, NO FAMILY SUPPORT, AND THAT I WAS IN THE SITUATION ALL BY MYSELF. BUT MY FAITH IN GOD KICKED IN AND I TOLD THE DEVIL YOU ARE A LIE, AND YOU HAVE NO POWER UNLESS I GIVE IT TO YOU.
ONE YEAR LATER WE FINALLY WENT TO COURT. MY SON WAS FOUND INCOMPOTENT TO STAND TRIAL SO THE DA WENT AFTER HIM BY SAYING HE WAS A THREAT TO SOCIETY. HE HAD MY SON INVOLUNTARILY COMMITTED TO A SECURED MENTAL FACILITY, WHICH MEANS HE WILL NEVER BE ABLE TO LIVE AT HOME EVER AGAIN. BUT I HAD PRAYED TO THE LORD THAT EVERYTIME WE WENT TO COURT THAT HE ALLOWED MY SON TO GO HOME WITH ME, AND EVEN AFTER THE RULING HE ENABLED MY SON TO DO JUST THAT.
HE IS CURRENTLY WAITING ON A ROOM TO COME AVAILABLE , BUT THE GOD I SERVE IS STILL IN THE MIDST OF MY STORM, MY PRAYER NOW IS THAT A ROOM NEVER BECOMES AVAILABLE,I AM STANDING ON MY FAITH AND THE WORD OF GOD, I AM CLAIMING THE VICTORY NOW FOR WHAT HE IS ABOUT TO DO FOR MY SON. IT IS ALREADY DONE IN THE NAME OF JESUS.
I AM NOW IN THE PROCESS OF DURING A CIVIL LAWSUIT AGAINST THE STATE AND THE SCHOOL SYSTEM, FOR NOT PROVIDING THE MEANS OF PROTECTING MY CHILD WHILE IN THERE CARE. THERE WAS NOT SUPPOSE TO BE ANY SMALL CHILDREN ON HIS BUS, THERE WAS SUPPOSE TO BE AN AID, AND NO FEMALES ON THE BUS, EVERYTHING THEY PROMISED ME, THEY DROPPED THE BALL ON. I TRUSTED THEM WITH MY DISABLED SONS LIFE, AND THEY LET ME DOWN OVER AND OVER AGAIN.
PART OF THE SUIT WILL BE FOR THE DISTRICT COURT VIOLATION OF HIS CONSTITUTIONAL RIGHTS, AND HIS RIGHTS GARUANTEED BY THE I D E A.
ALL MY LIFE AS BEEN TEST AND TRIALS, BUT I ALWAYS KEPT MY FAITH IN GOD AND WHAT HE CAN DO. I THANK HIM FOR HIS GOODNESS, HIS MERCY, AND MOST OF ALL HIS UNMERITED FAVOUR TOWARDS ME. WHEN YOU ARE DOWN FOR THE COUNT, AND ABOUT TO LOOSE ALL HOPE AND JUST GIVE UP, GOD WILL PICK YOU UP, TURN YOU AROUND AND PLACE YOUR FEET RIGHT BACK ON SOLID GROUND.
GOD WILL NEVER TAKE YOU WHERE THE GRACE OF GOD WILL NOT PROTECT YOU. THERE IS NONE LIKE HIM NO WHERE, AND I WOULD NOT TRADE MY WALK WITH HIM FOR NOTHING AND NOBODY IN THIS WORLD. I AM SO GLAD THAT I DONT PUT MY TRUST IN MAN, BUT GOD HE WILL NEVER FAIL YOU.
OH TASTE AND SEE THAT THE LORD IS GOOD AND HIS MERCY ENDURETH FOREVER. IF I COULD NOT SAY A WORD I WOULD JUST WAVE MY HAND. HE IS LIKE FIRE SHUT UP IN MY BONES, IT IS SOMETHING ABOUT THE HOLYGHOST I CANNOT EXPLAIN, BUT I GOT IT, THANK GOD I GOT IT.
THE CALL I DREADED TO GET
Jul 21, 2008, 8:08 pm
I HAD BEEN PRAYING SINCE THE COURT INVOLUNTARILY COMMITTED MY SON TO A SECURED MENTAL FACILITY THAT A BED WOULD NEVER BECOME AVAILABLE FOR HIM, I RECEIVED THAT CALL, I AM TO TAKE HIM TO THE FACILITY IN TWO DAYS, TURN MY BACK AND WALK AWAY LEAVING MY BABY BEHIND
ALOT OF PEOPLE SAY YOU PRAYED TO GOD TO KEEP HIM HOME,BUT HE DID NOT ANSWER YOUR PRAYER. GOD IS NOT A MAN THAT CAN LIE OR WILL LIE, IT IS ALL ABOUT PRAYER AND MY FAITH WHICH IS GOING TO ANSWER MY PRAYER. I AM STILL LEANING AND DEPENDING ON GOD TO DO JUST WHAT HE SAID HE WOULD DO. GOD HAS NOT FORGOTTEN ME, NOR HAS HE FORSAKEN ME, I KNOW HE HEARS EVERY PRAYER I SAY, HE KNOWS EVERY TEAR I HAVE SHED,HE FEELS MY HEART BEING BROKEN IN TWO, HE KNOWS MY NEEDS AND MY DESIRES.
HE IS GOING TO GIVE MY BABY A SPEEDY DISCHARGE FROM THE FACILITY AND BRING HIM HOME REAL SOON TO SLEEP IN HIS OWN BED. I REFUSE TO GIVE THE DEVIL ANY POWER, NOR WILL I LET HIM STEAL MY JOY. I DEMAND THAT THE DEVIL TAKE HIS HANDS OFF OF MY CHILD, GOD GAVE HIM TO ME AT 6 WEEKS OF AGE, I GAVE HIM BACK TO GOD THAT SAME YEAR, I HAVE RAISED HIM TO BE WHAT GOD WOULD HAVE HIM TO BE
HE LOVES CHURCH AND HE LOVES PRAISING THE LORD. GOD DID NOT GIVE HIM TO ME TO LET THE WORLD TAKE HIM BACK. I AM PATIENTLY WAITING FOR MY SEASON, AND WHEN IT COMES AND MY BABY IS BACK HOME I WILL GIVE GOD ALL THE GLORY AND THE PRAISE, IM NOT WAITING FOR THE BATTLE TO BE OVER I AM GOING TO SHOUT THE VICTORY NOW. BECAUSE THE BATTLE IS ALREADY WON, ITS NOT MINE ITS THE LORDS. HE SAID IN HIS WORD IF I JUST GIVE HIM ALL MY PROBLEMS HE WOULD FIGHT MY BATTLES FOR ME, AND MAKE MY ENEMIES MY FOOTSTOOL IF I JUST LIVE RIGHT.
STILL SHOUTING THE VICTORY
MY SON FINISHED THE COMMITMENT ORDER THAT WAS ISSUED BY THE JUDGE AND TESTED FOR THE FOURTH TIME FOR COMPENCY, HE WAS FOUND STILL TO BE INCOMPOTENT AND UNTRAINABLE TO UNDERSTAND WHAT IS BEING ASKED OF HIM OR TO ANSWER IN HIS OWN DEFENSE, WE WENT BACK TO COURT TO HAVE THE CHARGES DROPPED AND HIM RELEASED FROM THE FACILITY BACK INTO MY CUSTODY, BUT THE DEVIL WAS NOT THROUGH WITH ME YET, THE COURT STILL HOLDING UP HIS RELEASE, MY ATTORNEY AND I ARE TRYING TO FIND THERAPY AND A MEDICATION TO BE PRESCRIBED FOR HIM IN ORDER TO KEEP HIM SAFE IN THE COMMUNITY, I AM STILL STANDING AND REFUSE TO BE MOVED,LEANING AND DEPENDING PRAYERFULLY, IT IS NOT OVER TILL GOD SAYS ITS OVER , NO MATTER WHAT THE COURT SAYS GOD HAS THE LAST SAY AND I KNOW WITHOUT A DOUBT MY SON WILL BE HOME WITH A TESTIMONY THAT HE MAY NEVER BE ABLE TO VERBALLY GIVE, BUT THELORD KNOWS ITS DOWN IN HIS HEART.
A SOLDIER IN THE ARMY OF GOD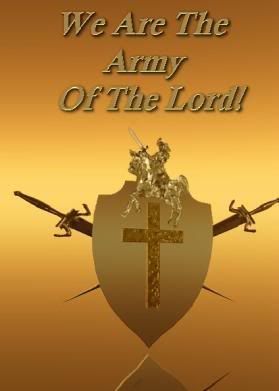 I am a soldier in the army of my God. The Lord Jesus Christ is my Commanding Officer.The Holy Bible is my code of conduct. Faith, prayer and the Word are my weapons of warfare. I have been taught by the Holy Spirit, trained by experience, tried by adversity and tested by fire. I am a volunteer in this Army, and I am enlisted for eternity. I will not get out, sell out, be talked out, or pushed out. I am faithful, reliable, capable, and dependable. If my God needs me, I am there. I am not a baby. I do not need to be pampered, petted, primed up, pumped up, picked up, or pepped up. I am a soldier. I am not a wimp. I am in place, saluting my King, obeying His orders, praising His name, and building His kingdom! No one has to send me flowers, gifts, food, cards or candy. I do not need to be cuddled, cradled, cared for, or catered to. I am committed. I cannot have my feelings hurt. Be bad enough to turn me around. I cannot be discouraged enough to turn me aside. I cannot lose enough to cause me to quit. When Jesus called me into His Army, I had nothing. If I end up with nothing, I will still come out ahead. I will win. My God has and will continue to supply all of my needs. I am more than a conqueror. I will always triumph. I can do all things through Christ. Devils cannot defeat me. People cannot disillusion me. Weather cannot weary me. Sickness cannot stop me. Battles cannot beat me. Money cannot buy me. Governments cannot silence me. And hell cannot handle me. I am a soldier. Even death cannot destroy me. For when my Commander Calls me from this battlefield, He will promote me to Captain and then allow me to rule with Him. I am a soldier in the Army, and I am claiming victory. I will not give up. I will not turn around. I am a soldier, Marching Heaven bound!
Hallelujah!!!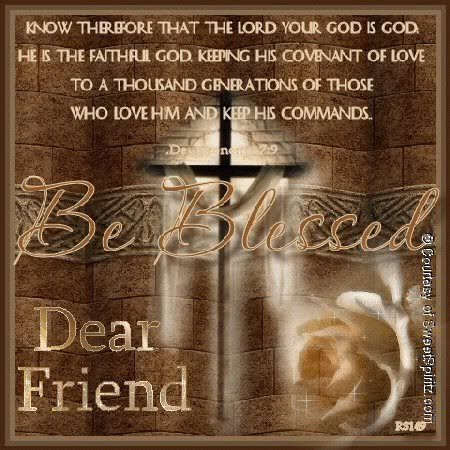 To Trust You Is To Believe
Sometimes it seems impossible
To trust in you my Lord
But then again it's all I have
When my backs against the wall
The pressures forever mounting up
And worsens with little hope
Though I pray and leave it with you
It's so hard for me to cope
I know, O Lord, you teach us patience
Especially at those times
You want us to trust completely
Though answers are hard to find
And there are times it seems as though
You have stepped back from us
We feel so much alone in our mess
Not knowing you're watching with love
You never really leave us Lord
Nor forsake us in our need
You only want us to trust you
And in your word believe
You know the circumstances we're in
And know the struggles we face
The situation when given to you
Can empower our faltering faith
For in your word we're told to give
To you all our anxieties
And all the worries and fears we have
Praying for the needed victory
For in due course you will come through
To bring the needed relief
And through it all we shall develop
A stronger and deeper belief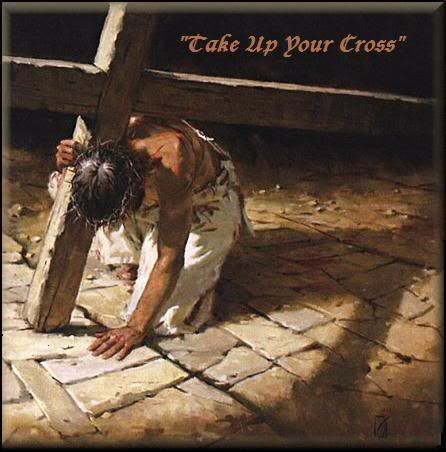 It's In God's Word
READ: Psalm 119:25-32
I will run the course of Your commandments, for You shall enlarge my heart. —Psalm 119:32
As optimistic as I am (I can find a bright side to just about everything), I also know that life can be a dark and lonely place.
I've talked to teenagers who have a parent whose anger makes just going home after school a dreaded trip.
I've known people who can't escape the curtain of depression.
I've spent considerable time with others who, like my wife and me, are enduring life with the sudden death of a child.
I've seen what relentless poverty can do to people all over the world.
Despite knowing that these scenarios exist, I don't despair. I know that hope is available in Jesus, that guidance comes through the Spirit, and that knowledge and power are found in God's Word.
The words of Psalm 119 give us encouragement. When our soul "clings to the dust," we can be revived according to God's Word (v.25). When our soul is full of sorrow, we can be strengthened by His Word (v.28). When we are threatened by deceit, we can follow the truth of His Word (vv.29-30). Our heart can be set free by God's commands (v.32).
Are life's demands overwhelming you? If so, you can find hope, guidance, and knowledge to help. It's in God's Word.
If your soul is parched and thirsty
And you feel weighed down by care,
Go to God's Word for refreshment—
You'll find strength and comfort there.
A well-read Bible makes a well-fed soul.
STEP ASIDE -- LET GOD BE GOD! I was reminded today to Hold on and don't give up. I don't have to worry nor do I have to cry, cause GOD sees what we're going through. HE is willing and HE's able to do just what HE said he would do. None of what we go through catches HIM by surprise. I was inspired to be still and don't question it, these obstacles they were allowed God wants to take us higher and higher if we would just hold on. I know my God is willing and more than able to do what HE said HE'd do. I also know HE's faithful to do what HE said HE'd do. Now if HE said it -- you gotta believe it -- cause there's nothing HE can not do.
I am blessed to know that -- You must stand on his word . Cast ALL your cares on HIM -- you gotta believe that HE loves you .. HE did it for me .. I know HE'll do it for you. Just STEP ASIDE . You gotta learn how to let go and Let God be God and stop trying to handle it all by yourself .. move yourself out of the way and move your pride out of the way and LET GOD BE GOD. Let HIM work a miracle in you and let HIM work a miracle through you. Just say THANK YOU JESUS! CLAIM THIS VICTORY -- GIVE HIM HONOR AND PRAISE!
Affectionately yours, God's Servant